Uncategorised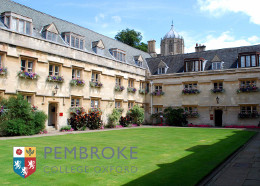 31st July - 4th August 2023
Pembroke College, Oxford 


Applications closed

We're pleased to report that the summer school has now become a regular fixture on the ICVS calendar.  One of the society's biggest priorities is the future of colour science.  With this in mind, back in 2015, Sergio Nascimento proposed that we could help promising young people with a high-quality Summer School, in the 'quiet' period between the 2-yearly symposia.  So far over 100 young researchers have benefitted, many forming lasting links with their peers and senior members of the society.  
Since its inception in 2016 it has been held at Pembroke College, Oxford.  Although the pandemic forced us to run the 2020 school as an on-line only event, we are back on track for an in-person residential school this year. 


If you joined or rejoined the society during 2022, then your membership still has another year to run.  We'll send you a renewal reminder towards the end of 2023. 

If you are not currently a member, and wish to join for 2023, then please send us a message via the contact menu on the left, and we'll send you a membership form.